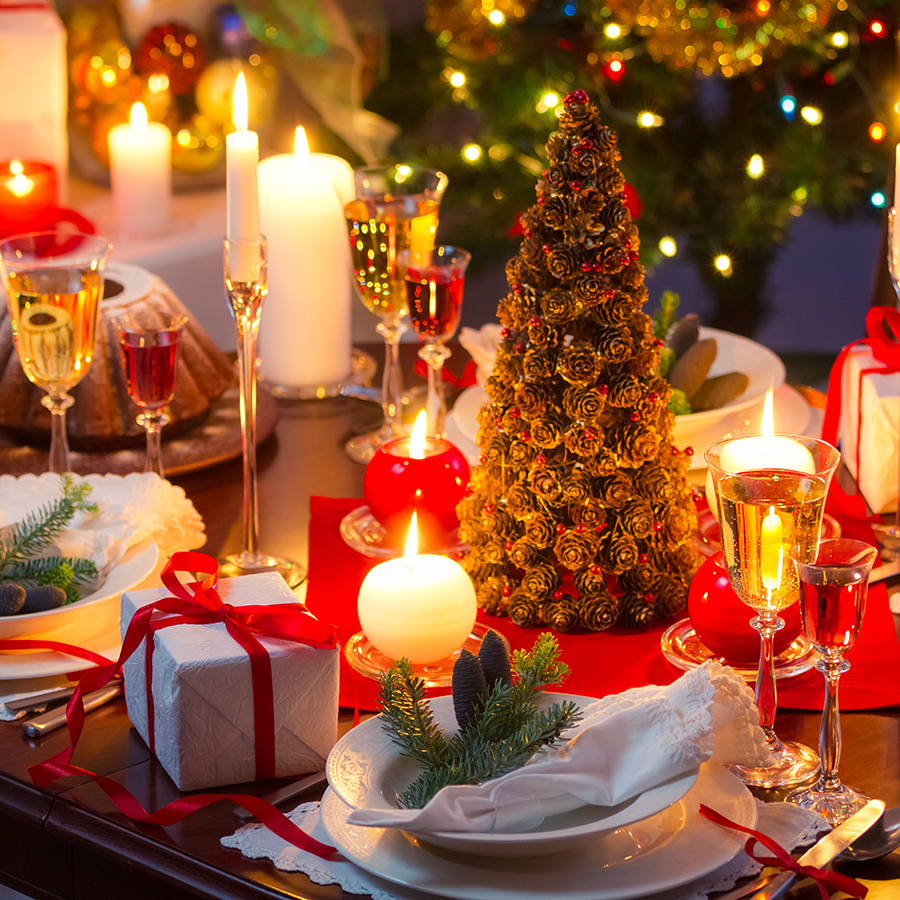 Christmas is a time of good will, joy and cheer and it's often the one time of year we choose to spend as much time with family and friends as possible.
This often leads to an abundance of festively themed dinner parties.
For your next dinner party, why not take inspiration from these stunning table settings and cheerful centerpiece ideas.
1. Festive centrepieces
From bouquets of Christmas themed flowers, including a vase brimming with red amaryllis to festive centrepieces comprising of red petal wreaths, there are an abundance of Christmas baskets and garlands to choose from. All Christmas centrepieces add an air of warmth and vibrancy to the home.
2. Sparkling pinecones
You can dress up a simple table setting by placing a whitewashed pinecone embellished with silver beads on every guest's plate. Finish the look by attaching a nametag to the pinecone. Pinecones can be bought or collected from outside by you and your children – children love decorating things at Christmas and this adds a personal touch to your Christmas table.
3. Subtle seasonal touches
Low-key seasonal accents work really well during Christmas. Ideas such as: tucking sprigs of holly into silver or gold napkin rings, hanging garland wreaths from the sideboard or placing a mini poinsettia centrepiece on the table will add instant sophistication to your festive dinner party this year.
4. A floral napkin ring
Instead of opting for your usual napkin rings, add some colour to each table setting by tying an elegant red lily around each napkin. This will look unique and festive.
5. Create an eye-catching centrepiece
Combining bold red accessories, such as brightly coloured decorative baubles with berry sprigs and glitter-infused tinsel is a great way to create an eye-catching centrepiece this year.
6. Create a garland out of festive wreaths
Placing several wreaths down the centre of your dining room table, complete with red roses, berry sprigs, gold dusted acorns and dried orange segments will add traditional holiday flair to any dining room festive arrangement.
7. Decorative space savers
If you're struggling on space or your dining room table is a little on the small side, try filling several egg cups with red berries and a few sprigs of festive foliage. These small decorations will have a big impact, especially when lining a white tablecloth. Alternatively, if you're really short on space, hang decorations from a chandelier above the table.
With these ideas in mind, your Christmas table will look perfect.