Whether you like them or not, Orchids are one of the most popular plants. Find out all about how to grow them, water them and keep them happy & blooming.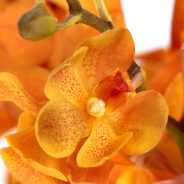 The Mokara Orchid is one of the easiest orchids to grow and maintain – provided you follow a few simple tips when it comes to caring for this plant. Native to Singapore, this particular specie is used to humid climates and produces extremely exotic flowers. Mokara Orchids make great houseplants and are one specie of flower that tends to bloom all year round – making them the perfect display pieces for the home or office. Choosing Mokara Orchids Before choosing a Mokara Orchid, it's recommended you look at the plant's leaves and roots. If...
read more
Orchids come in all shapes, sizes and hues, including a beautiful blue shade. If you're looking for a plant to brighten up your home, a blue orchid guarantees to bring even the dullest of interior spaces to life. And providing you take care of them, they can last for many years. Blue orchids, although rare, are now becoming more readily available. Orchids themselves have always been acclaimed. A vivid blue Orchid on the other hand has the ability to really wow its audience. Read on to learn more about the many stunning blue orchids available...
read more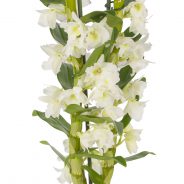 Dendrobium Orchids – with their profuse, delicate blooms – are hugely popular with many a green-fingered connoisseur. Their life cycle consists of three stages, which include the 'flowering stage' (winter to spring), the 'growing phase' (summer to autumn) and 'dormancy' (late autumn to winter). Whether you wish to grow this particular orchid in your home or garden, there are a number of tips and tricks to follow, all of which will help you prolong your flowers lifespan. With the correct care and growing conditions, orchids can double in...
read more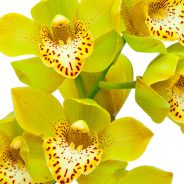 Also known as 'boat orchids' – Cymbidium Orchids are traditionally used for corsages and cut flower displays. They're also a popular houseplant, and when taken care of correctly, they can flower for between eight and ten weeks. The flowers are usually extremely large in size and appear patterned on the surface. Available in almost every hue but blue, they make the perfect addition to any space. They're also one of the most maintenance-free orchids available to buy, making them an ideal option for those who possess busy working and social...
read more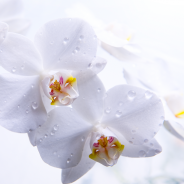 Orchids, with their fragrant and vibrant blooms, make a graceful and welcoming edition to our homes, however they can become susceptible to certain diseases. Thankfully, there are a number of ways to treat these complaints, ensuring your potted plants endure a long and healthy lifespan. Is your Phalaenopsis orchid sick? First things first, in order to establish whether your orchid has a disease, you need to know what to look for. There are a number of different explanations to why your orchid may not be in great health. Cymbidium Mosaic Virus...
read more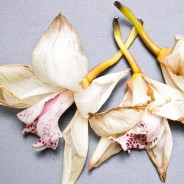 Were you bought a beautiful Phalaenopsis orchid for your birthday and now it just doesn't seem to be blooming as it should? Don't worry, we've all been there! No matter what your orchid is up to, we've got the answers to help you keep your beloved plant in tip top condition throughout the year. Help: my blooms are wilting/ falling off Calm down, this is a normal part of an orchid's lifecycle. However, premature flower loss could be the result of a sudden change in temperature; for example, if the temperature becomes too low when the plant is...
read more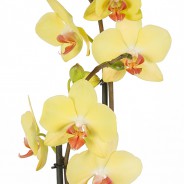 Are you a big fan of beautiful orchids? Who can blame you? In fact, they're one of the most popular house plants in the UK – because, let's face it, they look wonderful no matter where you place them. But if you don't have the time to go to your local garden centre to pick up the orchid of your dreams and are looking to buy it online, here, you'll find everything you need to know – from getting your orchids by post, to looking after them when they arrive. 1. Always read the details On most, if not all websites there will be a small...
read more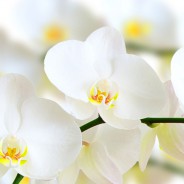 While we all love to look at our Phalaenopsis orchid, few of us are aware of exactly how to look after one to ensure it continues to thrive. It's time to put the myths to rest and establish the facts. What's in the name? Also known as the Moth Orchid, the Phalaenopsis is the most common orchid for UK homeowners, simply because it's widely available. It's also relatively easy to grow … or so they claim. Where should you put it? As a Phalaenopsis owner, you'll soon see that these plants absolutely love living on the windowsill....
read more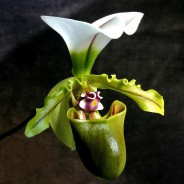 Orchids are no doubt everyone's favourite plant. Whether you have it placed outside in the garden or brightening up a room in the house, there's no denying we love this beautiful easy-care plants but just which variety do we own? With literally thousands of orchid types around to purchase, discovering the type you have may sound difficult but we've compiled a list of the five more popular varieties and even included some care tips on how to look after them so you can get the most from your favourite flowers. 1. Phalaenopsis orchid Also known...
read more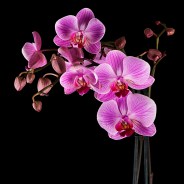 Orchids have long been a symbol of beauty and love and as a result are often grown by enthusiasts due to their sheer elegance. However, while having an orchid can really be the finishing touch to any room in the home, the question of how to care for an orchid is a big one. For many of us, our very first orchid, no matter if its white, yellow or pink, is the beginning of a thriving love affair with the bloom so it's important to learn how to look after orchids and prolong their life as much as possible. Listen up and learn the ultimate tips on...
read more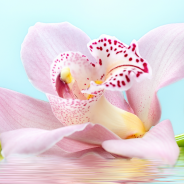 Did you know there are over 250,000 different species of orchids around the world? And that the number is continuously increasing because of our everlasting love for them? Due to the popularity of orchids, these beautiful plants are taking root in homes and gardens up and down the country and while they are known for being a relatively low maintenance plant there are occasions when they seem to be languishing. When our orchid starts to decline we are all guilty of feeling at a loss over what to do. Surely there's no way to bring it back...
read more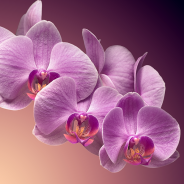 Orchids are known for their meaning of love and beauty and have been part of many people's homes for years. As a result, the orchid is fast becoming the most popular plant – just behind Poinsettias at Christmas. However, receiving an orchid for the very first time can be quite daunting – especially if you have no idea how to keep it alive. So, here at Serenata Flowers we have created an SOS guide to help you to look after your exotic orchid. Identify your orchid The first step to look after your orchid is to identify which type of orchid you...
read more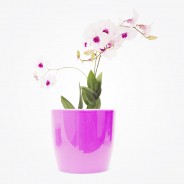 A popular flower associated with perfection, love, beauty, luxury, fertility and children, orchids are a popular plant choice for the home or bouquets. Low maintenance to care for and beautiful to look at, here are ten tips that are guaranteed to keep your orchid looking its blooming best month after month and year after year. 1. Place them in windows: orchids love the light, so place them on the windowsill behind curtains and blinds. You can check if it is getting enough light by analysing the leaf colour which should be a bright rather than...
read more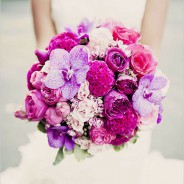 Do you love orchids? Who doesn't! Recently they became very popular feature in bridal bouquets – ranging from simple white orchid bouquets to intricate combinations of multi coloured flowers and bouquets. Some of the most popular orchid varieties can be easily grown at home and included in your bouquet. Do you need ideas for your orchid wedding bouquet? There is plenty of inspiration on our Pinterest board! Contact your wedding florist to craft one according to these pictures, or if you're brave and skilled enough, you can...
read more